February went by so fast, and now that it's March I'm thinking about all of the things that I have planned and have to do this month.
I guess the biggest thing is that my little brother is turning 9 on the 23rd. It's so crazy to think that my mother had him when I was 14 years of age, and I have literally watched him grow every step of the way. It's not very common that you have such a big age gap where you can say that you actually remember when your sibling when they were a baby. It's been quite the journey needless to say.
The other big thing that's happening this month is that I am attending LA's
PaleyFest 2014
, where I get to sit in on the
American Horror Story: Coven
cast panel. I am majorly excited and I know when the day comes I'm going to be skipping up to the theatre.
Goals for this month:
-Since I have been sick the last five days, I have a ton of school hours to make up, which will not be fun. So for the next few weeks I will be attending school Monday through Saturday 8-5. I like to refer to it as "doing time." Ha, ha kidding. But realistically, will I have a life? No.
-I'd like to try and stay up on my blogging. I fell behind dramatically last month and I think most of that had to do with me getting into the rhythm of school as well as working, but now that I don't have a job anymore, I'm hoping to dedicate more time to The Porcelain Blog.
-As most of you know, I am going to Hawaii in the month of May with one of my dear, best friends. Part of being able to travel to a paradise like that is that I'll have to cut back a lot and save more. We don't have much planned yet, but her and I are the kind of people who can decide to do something crazy, fun and expensive at any given moment, therefore, time to pull out the piggy bank.
What do you have planned for March? Any goals you'd like to accomplish for the month?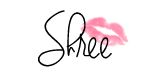 March photo taken from weheartit.com